The Fleet...
Our fleet consists out of luxury, air-conditioned sedan vehicles. The vehicles are serviced in our own workshop, with the aim to prevent irritating mechanical problems when least needed, and excessive vehicle noise, that are just plainly unprofessional, and not fitting our reputation. We don't compromise on running a legitimate business so all vehicles go for annual roadworthy tests and are fully insured.

The Drivers...
Our drivers will be easily recognized with their professional attire and identification cards. You can expect them to be on time, every time, and they will help you carry your luggage and open the door for you. All our drivers must be in possession of a Public Drivers Permit (PDP). Drivers pay their own fuel, and traffic fines and thus moderates their driving style.
Services...
We provide services every day of the year and will meet passengers at any time of day and/or night. We provide a service for employers who regularly work late or do irregular shift work. Our vehicles will get them home quickly and safely at a reasonable fare. We provide a shuttle service for scholars/ students to and from home. Passengers transfers between hotels, guesthouses and the airport, intercity bus stations and railway stations. Rates are on request and we can also open accounts for accommodating clients who would then bill the guest for the cost of transfer. We do not charge you after hours, just to prove that being of service to you, is no hassle to us.
When we collect you from the airport, take cognizance of the following:
• Your driver will hold up a sign displaying either you company name or you surname as per booking
• Your driver will wait at the terminal gate inside the arrival hall at the Kimberley Airport.
• When you exit the terminal gate into the arrival hall and do not see your driver, please wait at the information desk or Africa Curios Shop, where the driver will collect you.
Hiring Rates...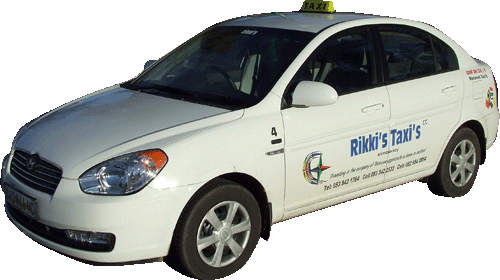 Tipping is at the customer's discretion - in return for prompt and friendly service. Please be sure to enquire about the current fares at the time of booking the vehicle, as these are subjected to change.